Your Home Away from Home: A Glimpse into the 3-Star Hotels in Thamel, Kathmandu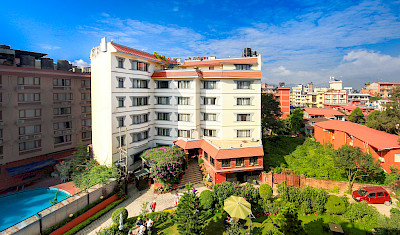 Thamel, located in the vibrant heart of Kathmandu, is a hub of activity and culture, drawing travelers from around the globe. Amidst the lively streets and bustling markets of this district lies Samsara Boutique Hotel, a 3-star accommodation that embodies the essence of "Your Home Away from Home." Let's delve into the distinguishing features that make Samsara Boutique Hotel a preferred choice, offering warmth, personalized hospitality, and a relaxing ambiance.
Warmth and Personalized Hospitality
Samsara Boutique Hotel extends a warm welcome to every guest, creating a sense of belonging and comfort. The dedicated staff goes the extra mile to ensure a personalized experience, assisting guests with a genuine smile and ensuring their needs are met promptly.
Welcoming Ambiance
As you step into the elegant lobby of Samsara Boutique Hotel, you are enveloped in an inviting ambiance that sets the tone for a pleasant stay. Thoughtfully curated decor and cozy seating make the lobby a perfect spot to unwind, plan your adventures, or simply soak in the welcoming atmosphere.
Cozy and Chic Rooms
The rooms at Samsara Boutique Hotel strike a perfect balance between coziness and chic design. Each room is designed with comfort in mind, featuring modern amenities and a tasteful aesthetic that provides a relaxing retreat after a day of exploration.
Comfortable Accommodation
Samsara Boutique Hotel offers a range of accommodation options to suit diverse guest preferences, from individuals to families. The focus is on providing a comfortable and homely environment, ensuring a restful night's sleep for all guests.
Beautiful Garden
A highlight of Samsara Boutique Hotel is its enchanting garden, a hidden gem within the heart of Thamel. This lush and beautifully landscaped garden offers a serene escape where guests can unwind, enjoy a cup of tea, or simply immerse themselves in the tranquility of nature.
Ideal Convenient Location
Strategically positioned within Thamel, Samsara Boutique Hotel boasts an ideal location. Guests benefit from easy access to nearby attractions, markets, and transport hubs, enhancing their exploration of the city and making their stay all the more convenient.
Tasty Treats at the Restaurant
Samsara Boutique Hotel houses an inviting restaurant where guests can indulge in a culinary journey, experiencing an array of delectable dishes. From local Nepali flavors to international cuisine, the restaurant promises a delightful gastronomic adventure for every palate.
Amenities and Services
In addition to the inviting features, Samsara Boutique Hotel offers an array of amenities and services, including 24-hour front desk service, complimentary Wi-Fi, laundry facilities, and dedicated tour assistance. These offerings are designed to ensure a seamless and enjoyable stay for all guests.
In summary, Samsara Boutique Hotel in Thamel, Kathmandu, epitomizes the essence of "Your Home Away from Home." With its welcoming ambiance, cozy rooms, convenient location, and delightful dining options, Samsara Boutique Hotel ensures that every guest's stay is memorable and truly enriching.